FIAT VIGNALE 850 SPIDER
~ A Lady With a Past
I have been asked by my friend, Neal Jones of Jonah Graphics of Gloucester, if I would put his beloved Fiat Vignale 850 Spider on a web page. Neal knows that this is the only Fiat Vignale 850 Spider in the UK and would like to hear if there is another out there in the wider world. Neal, who owns a Graphic Design and Printing Studio, has been interested in classic cars for many years and has previously owned other Fiats but he feels this lady is special.

| | |
| --- | --- |
| | The picture to the left shows Neal driving his Fiat Vignale 850 Spider for an article which featured them in the January 1994 Classic Cars magazine. The history of this car is quite interesting. The 850 Spider was built in 1964 by Vignale as a prototype for Fiat. Fiat had commissioned a number of Italian manufacturers to design a sports car body for their 850 saloon floorpan from which Fiat were to select a production model. The firm of Alfredo Vignale, which produced hand built cars at their Turin coachworks, were not successful but it is believed that they carried on and produced around half a dozen of their 850 Spiders. The Fiat Vignale 850 Spider was on display at the 1965 Milan Motor Show. Neal wonders if his is now the only surviving Vignale 850 Spider. |
| | |
| --- | --- |
| However, this is a lady with a past. She was found abandoned in Savona in 1975 by an Italian army officer, Capitani Gian S. Genoves(?). From a receipt stappled in the log book shown right, she then appears to have been sold to another officer, Capitani Jan Paolo of Alassio(?), who it is believed eventually brought her to Great Britain. At some stage in this chain of ownership she appears to have been re-sprayed white. The second page of the log book also shows that the original registration was for a Fiat 100G 850 S Vignale. The date of registration was for the 5th May 1965. | |
| | |
| --- | --- |
| | No other Fiat Vignale 850 Spiders are known in Britain. The original importer of Fiat Vignale cars, F.Demetriou of Queensway in London, only imported the 850 Special Saloon and the Coupe. The Fiat Vignale 850 Spider has a number of special features otherwise mostly it is made from standard Fiat parts. In particular the folding hood was specially designed by Vignale. |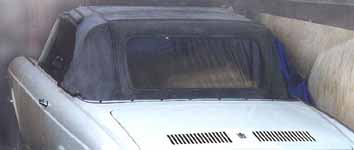 The hood specially designed for the Vignale 850 Spider
You can click the image to view the original 1960's advert for Fiat 850's from the F.Demetriou group.

The advert describes the Fiats of this period as having '...sparkling acceleration,
Continental cruising in the eighties and amazing economy'.
| | |
| --- | --- |
| The picture to the right shows the engine and the underside of the bonnet. The latter is red the original colour of the Fiat Vignale 850 Spiders. Here our story takes a new twist. Shortly after Neal acquired his 850 Spider, he was contacted by a German who at one time owned her. Apparently, he had bought this 850 Spider in Italy with a view to taking her back to Germany. When he got back home, he found that the regulations made it difficult for him to register her. Consequently, he drove her back to Italy to try to sell her back to the person off whom he had bought her. His efforts were to no avail, so he abandoned her in Savona!! He told Neal that at this time she was red and this is confirmed by the colour of the underside of the bonnet. | |
---
To send any replies please click on envelope or email me direct.


If you click the applet or the address provided, please check that your browser
has launched your email service correctly else your email may not be sent.
---
Or write direct to Neal at the following address:-
Neal Jones
Jonah Graphics,
The Corner House,
1,Spa Villas,
Montpellier
Gloucester,
GL1 1LB,
Gloucestershire,
England
Tel: GB 01452-502014, (from USA 01144-1452-502014)


---
Hope you enjoyed your visit. You are Visitor number
to our Web Site, which was created in December 1998.
---
This site is a GingerCat Ltd production.


---